Ignore the headline. I'm just trying to compete with Brian Dean and Neil Patel.
However, this is a list of tools I actually use in my day-to-day work in SEO and content marketing. Opinions are mine and mine alone.
This list is in no particular order (and no, there aren't SEO 7,299 tools … that was a bit of an exaggeration). 
I'm constantly adding to this list.
I'm not including the obvious "free" tools that every online business should be using. These include:
Google Analytics
Google My Business
Google Search Console
Bing for Business
Bing Webmaster Tools
Keyword Research Tools
Scout Suggest

Scout Suggest is different from keyword tools like UberSuggest or AnswerThePublic because of the long tail phrases you actually have a chance to rank for, "by trying to prompt Google to reveal more of its secrets with longer modifiers," in the words of the tool's creator. Rather than simply trying to get suggestions for 'which/why/how/can' + keyword, which is limited to at most 25 results per modifier, I'm using terms like 'which keyword for' or 'how keyword can' which helps tease out many more questions your customers are asking for.
There are also additional modifiers for comparison, research, shopping and local terms, with a quick click to copy terms to the clipboard or look them up on Google.
Finally, if you're like me and find a list of 1,000 keywords a little hard to digest, once the tool is done finding suggestions it will automatically group them for you using n-grams to cluster similar terms. Very useful for generating new content ideas!
Site Audit Tools
Advanced Site Checker
Advanced Site Checker is a new resource (plugin here). It has some great explanations of issues surrounding moble SEO and pagespeed, as well as other site health issues. It did some useless results (warning that links didn't have "title" attributes and falsely claiming that is an important SEO need), but is absolutely worth checking out.
Sitechecker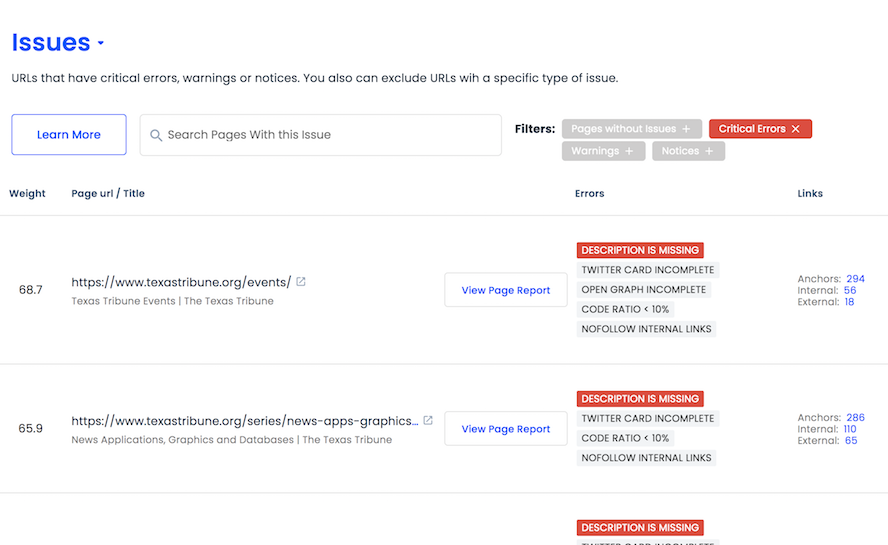 Sitechecker (not to be confused with Advanced Site Checker) is owned and operated by Boosta Inc. Pricing starts at $69/month for 10 websites, but the free tool offers some guidance for webmasters and webmistresses. There's a great overview of Sitechecker by Brian Jackson at Woorkup.
SEO META in 1 CLICK
SEO META in 1 CLICK Chrome extension
SEMrush
SEMRush is great, though Ahrefs is my backlinks checker of choice. As a tool used by SEO and SEM marketing pros, it's on the "short list" of needed tools. The only reason I'm ranking it so low on this list is because the free version doesn't give you a lot of functionality.
"DA" is a metric used by Moz … SEMRush has "Authority Score" … Both are comparable to "Domain Rating" in Ahrefs.
Copy Tools
Keyword Density Analysis Tool (by Internet Marketing Ninjas)
Go to Keyword Density Analysis Tool and enter the top few websites ranking for your target keyword. An average of the top 3, 5 or 10 ranking sites will give you an idea how often you should include your target phrase within your copy (keyword density), how long your blog should be (word count), and even a few ideas for target keywords you may have not considered.
Link Checkers
Linkody
Third-party backlink checkers fill the void where Google Search Console falls short. Majestic, Ahrefs and Open Site Explorer are link analysis and research tools; Linked is simply a backlink monitoring tool.
Netherlands based Linkody https://www.linkody.com/ doesn't offer SEO research tools, keyword tools, or pay per click monitoring, but it lets you know when new backlinks to your site are created. When a link goes down (either by removal from a page or when the site its own goes completely down) Linkody will notify you.
Linkody's index may fall short, but if it doesn't show links that you know you have you can provide links to monitor.
Plans start at $14.90/month
Petty thorough Linked review here https://fatfrogmedia.com/linkody-review/
Sign up for 30 days free, no credit card needed (2 domains and up to 500 links) https://www.linkody.com/en/signup
Other Tools
Domain Age: It never was a factor. Link age is more likely a factor which misled people into thinking domain age played a role.
Domain Age Checker
Domain Age Checker can actually … Wait for it … Check the age of a given domain.
Full Page Screen Capture
Lots of tools claim to do a "full page" screen capture (i.e. a screencap of the entire browser window, including what's on-screen). I tried the top two or three that come up when you search for extensions and NONE of them did it. Full Page Screen Capture is the only free Chrome extension I've found that actually does it. In fact, all of the screen caps in this article were made possible by this aptly-named tool.
notes:
As I add to this list in the future, I'm wondering if I should:
Include"paid trials" that are so cheap and valuable that everyone should be taking advantage of them. This would include Ahrefs seven-day, $7 trial (which you should totally take advantage of, but only after you've made a plan for how you'll use it).
Include tools with free plans that expire after a certain trial period, those would be grouped together in a "Free Trial" section.
Include free image sites grouped together in a "Free Images" section.
Include tools not directly related to SEO in an "Other Tools" Section … Be aware that these are some of the most valuable things I use every single day. So just because they're in the "other" section doesn't mean they're an afterthought!