ACLU Apps For Filming Police
Taking photographs and video of things that are plainly visible in public spaces is a constitutional right—and that includes police and other government officials carrying out their duties.
However, there is a widespread, continuing pattern of law enforcement officers ordering people to stop taking photographs or video in public places and harassing, detaining, and arresting those who fail to comply.
The right of citizens to record the police is a critical check and balance. It creates an independent record of what took place in a particular incident, free from accusations of bias, lying, or faulty memory. It is no accident that some of the most high-profile cases of police misconduct have involved video and audio records.
The ACLU has fought—and will keep fighting—to ensure that the right to film and photograph the police is respected by law enforcement officials.
The ACLU has an app based on what state you are in that will keep your screen black and allow you to record an interaction with the police. It sends the video directly to the ACLU as it records so if the cops get your phone they can't destroy evidence of wrongdoing
Here is the Apple store: http://itunes.apple.com/app/id979642692
Here is the Google Play store: http://play.google.com/store/apps/details?id=org.aclu.mobile.justice.ca
Here is the website: https://www.aclu.org/issues/criminal-law-reform/reforming-police/mobile-justice
Witness Testimony, Part 1
(I am a) paramedic… Get called to jail for a man who had shoplifted, complained of chest pain. Great…go through the whole assessment, start medicating. Jail staff is flabbergasted, "you know he's just faking, right?" I insist he has to go to the hospital, as is the standard of care across the whole civilized world. They state they can't spare an officer to go with him and they'll have to release him. I don't care. We take him over their protestation and whining. I was warned later that if those cops don't like you, they won't show up if you ask for police assistance on scene. —source
Minnesota Teen Dies Of Apparent Drug Withdrawal In Police Custody
Moorhead, MN — "Your staff appear to have been very compassionate and treated (Abby) Rudolph very professionally," the Minnesota Department of Corrections ruled after 19-year-old Abby Rudolph died in a pool of her own vomit and feces, alone in a jail cell, after begging for help. But compassion was the last thing on the jail's itinerary when it came to the treatment of Ms. Rudolph. —source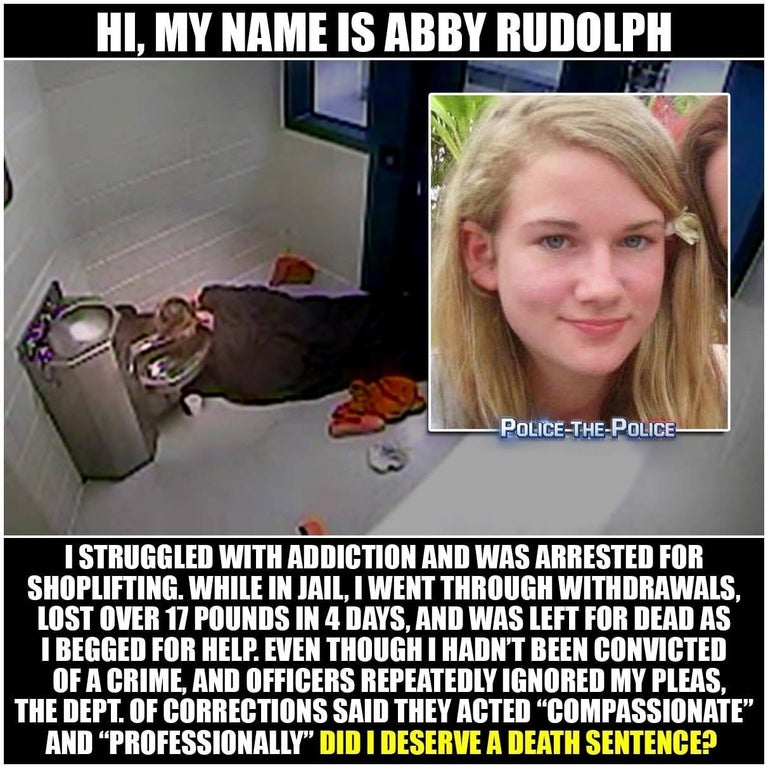 We're cops, not drug rehab specialists!

Well, let's take some of your budget and hire some addiction treatment peopl—

You need to Back The Blue!! You think you'll be safe if we get rid of the police??

No, no, let's just reallocate some resources so you can do what you're train—

HEY EVERYBODY THIS ANARCHIST IS TRYIN' TO GET RID OF ALL THE COPS!!!
More information about Abby Rudolph can be found here.