Back when he was just a candidate, Donald Trump promised to make discrimination against gays and lesbians legal again.
Trump promised to roll back marriage equality.
He promised to turn a blind eye to anti-transgender laws and repeal executive orders protecting the LGBTQ community.
There are also the optics of Trump's homophobia (the Trump administration has repeatedly refused to recognize Pride Month, for example), but from a policy perspective he has done exactly what he promised.
Below is an outline of Trump's history of anti-LGBTQ actions, and it is by no means complete.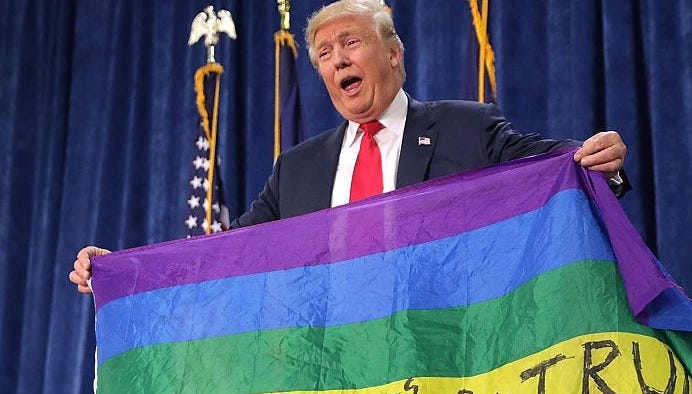 Opposes The Equality Act
The Equality Act is a bill in the United States Congress, that, if passed, would amend the Civil Rights Act to prohibit discrimination on the basis of sexual orientation and gender identity in employment, housing, public accommodations, public education, federal funding, credit, and the jury system.  The Trump administration released a statement opposing the passage of the Act.
Blocks LGBTQ Health Services
Trump's Denial of Care Rule gave doctors, surgeons, nurses, receptionists, orderlies and other healthcare providers the right to deny care to any patient, based on personal religious or moral objections. It doesn't matter how dire the patient's medical needs are, they get denied.
Supports Hate Cake
Remember the baker who refused service to a gay couple? Trump's DOJ submitted an amicus brief supporting the baker's right to discriminate" against LGBT people. The case ultimately resulted in a narrow Supreme Court ruling in favor of the baker.
Appoints Homophobes
Kayleigh McEnany was named the administration's newest press secretary McEnany has argued against transgender bathroom access and supported so-called "gay conversion therapy." 
Trump's Secretary of State Mike Pompeo announced a commission to decide which human rights are important to U.S. foreign policy—and he stacked it with anti-LGBTQ activists.
And how could we forget Mike Pence?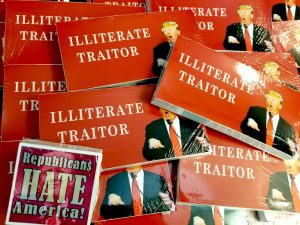 Removes Protections for LGBTQ Students
Trump's Department of Education is scaling back civil rights enforcement for LBGTQ students. Under Trump, allegations of sexual orientation- and gender identity-based discrimination are less likely to result in corrective action more likely to be dismissed without a formal investigation. 
Removes Protections for LGBTQ Workers & Armed Service
Trump's Attorney General Jeff Sessions submitted a number of briefs in state and federal courts arguing that employers could legally discriminate based on sexual orientation and gender identity. The DOJ also sent two memos instructing government departments to interpret religious liberty protections in ways that give broad exemptions from federal anti-discrimination laws to agencies and contractors. Trump's DOJ decided that the Civil Rights Act shouldn't protect transgender people from workplace discrimination. Previously, the law's Title VII made "discrimination based on gender identity, including transgender status" illegal. 
In a rebuke of the Trump Administration's hate-based policy, the U.S. Supreme Court in June ruled the 1964 Civil Rights Act protects gay, lesbian, and transgender employees from discrimination based on sex.
The Department of Labor exempted contractors from compliance with federal nondiscrimination rules that cover employment if they conflict with a contractor's religious beliefs. The directive specifically cites sexual orientation and gender identity, and it contradicts promises made by Trump that he would protect those rules. The Department of Labor also removed sections from its website about workplace rights and resources for LGBTQ workers, including a page on "Advancing LGBT Workplace Rights." 
Trump also banned transgender people from military service. This reversed a 2016 Obama policy to allow transgender people to serve without fear of being discharged, and to receive medical care to transition genders. The Department of Labor also proposed exempting military healthcare providers from an executive order that prohibits employment discrimination on the basis of sexual orientation and gender identity.
Doesn't Want LGTBQ Citizens Counted in the Census
The Trump Administration removes sexual orientation and gender identity questions from federal surveys to hinder programs targeting the LGBTQ community. This includes removing proposed questions about sexual orientation and gender identity from the 2020 American Community Survey. Data from the census is used to help distribute billions in federal funds, and without such questions, the LGBTQ community's needs are at risk of not being met