Should a law office called "Betty Blackwell" change its name to "Law Office of Betty Blackwell"?
Should "Franklin" change its name to "Franklin Austin Barbecue"?
Should Nike change their name to "Nike Athletic Shoes"? Does "Mom's Place" outperform "Mom's Place: An Austin Eatery" in search results?
These questions are worth careful consideration when you're starting your business. If you're an established business, on the other hand, you probably shouldn't lose any sleep over it—unless you're a local-only business. Along with "keyword stuffing," putting your city's name or your main target keyword query mattered more 10 years ago than it does now. But for local businesses, a name change may work wonders for you, at least in the short term.
Read on …
Should My Business Name Include An Industry Term or Keyword?
The EMD, or Exact Match Domain update, was a 2012 Google algorithm update that targeted exact match domains that were also low-quality sites. So don't go out of your way to have your business name be a keyword phrase just for the sake of having a domain name to match.
If you're just starting your business and including a keyword doesn't interfere with your branding, go for it.
Does It Help To Include My City In My Business Name?
If your business is called "Bob's Burgers", will it help to change it to "Bob's Burgers Ocean City"?
Short answer: I don't think it's worth the trouble for an established business to change its name, but if you're just getting started and you haven't already filed a ton of paperwork, having your city in your brand name may give you an edge—if you are a local business (i.e., a business working in a defined geographic region with no plans to expand).
A "trick" like this shouldn't help your ranking, and I'm sure Google will fix it at some point. But as of 2019, it can help with your ranking in the three local search results that appear above the traditional 10 organic "blue links" in search results. You may have heard this called the "local 3-pack," "snack pack," "map pack," or some other dumb name. These listings attract a lot of clicks, especially on mobile devices.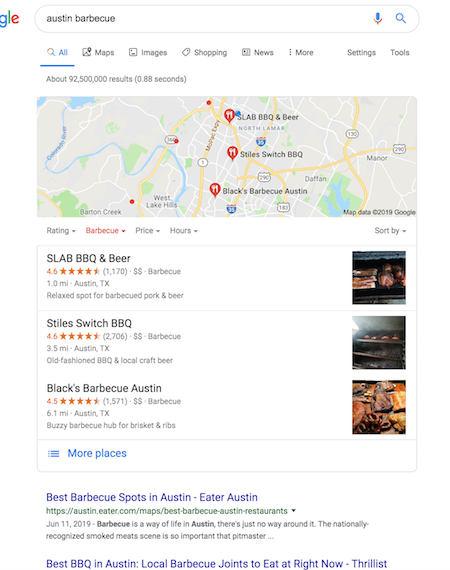 If you change your business, name, you also have to change your directory listings/citations everywhere. If you have different NAP data in different properties, Google may create a new business listing. Then you have a mess on your hands.
Should My Domain Be My Company Name?
Yes … Unless you're cool enough to get away with doing otherwise.
Writing in Search Engine Journal, Gillon Hunter asserts "It's bad branding to have a company name which doesn't match the domain name." I agree, but there are always exceptions. SLAB BBQ & Beer here in Austin has http://realdopebbq.com as its domain, and I think that's pretty memorable and eye-catching. However, they also have https://www.slabbarbecuerestaurantaustin.com and https://www.slabbbqcateringaustintx.com, so they're competing against one another for rankings. And https://www.slabbarbecue.com is a place with the same name in Los Angeles. It's all quite confusing.